driver picked me up in the morning and sent me over to the airport...
i like my dressing!
Singapore Airlines is the way to go for long flights. Lesson learnt after my previous USA trip.
shortly after getting on the plan, a menu was served to let me choose my meal when it is to be served.
i chose the beef brisket...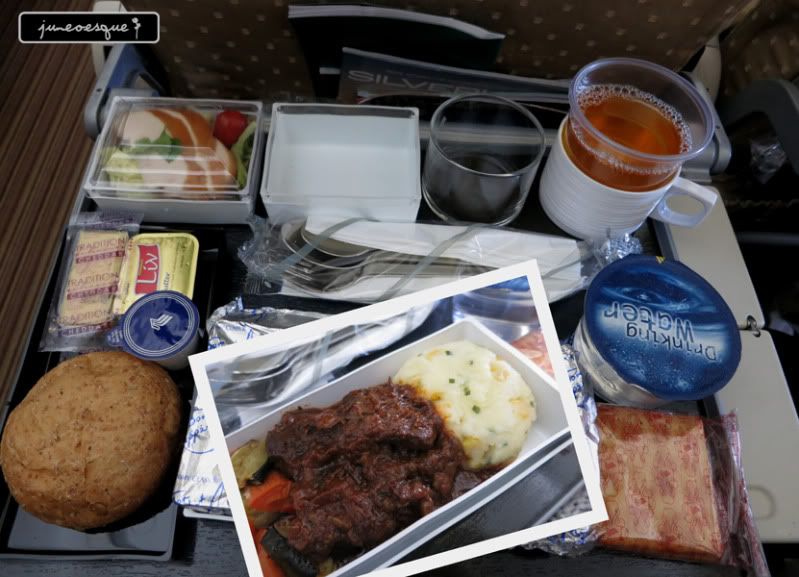 it was yummy!! so were the mashed potatoes accompanying it.
the turkey salad was ok but was a nice touch to the xmas season.
there was ample onflight entertainment.. movies which i've not caught. i caught a brainless HK comedy and watched a couple of episodes of How i met your mother, 2 and a half men and slept most of the flight away.
i keep hearing people get upgraded to business class. how come it never happens to me? i was seated beside a pair of eldery german couple - not the most friendly people around although i thought i was pretty helpful helping them inform the steward about the mdm's leg rest not working and even gave the grandpa my pillow when i saw him fidgetting around, not able to find a right posture to sleep. overall, the journey was fine.
for my next meal, i opted for fish with mashed...
the fish was not as wow-ing as the beef earlier but it was decent.
After like 12 - 13 hours, i reached germany.
as i walked through the customs, the immigration officer did his usual KYC asking where i was visiting. I gleefully replied - Frankfurt!
there is a.. a travel anxiety in me. i didnt feel at ease. i constantly worried about my belongings when we passed by people. i guess being in a western country made me feel like i stood out even more and while i had travel insurance in place, i was not prepared to lose anything particularly things like my camera and phone!
and there is my hotel....
the hotel bed... my pick is their pillows are really thin...